Young stars set to shine at the Standard Bank Joy of Jazz
First Female Jazz Conductor uncovers amazing talent
in the Standard Bank National Youth Jazz Band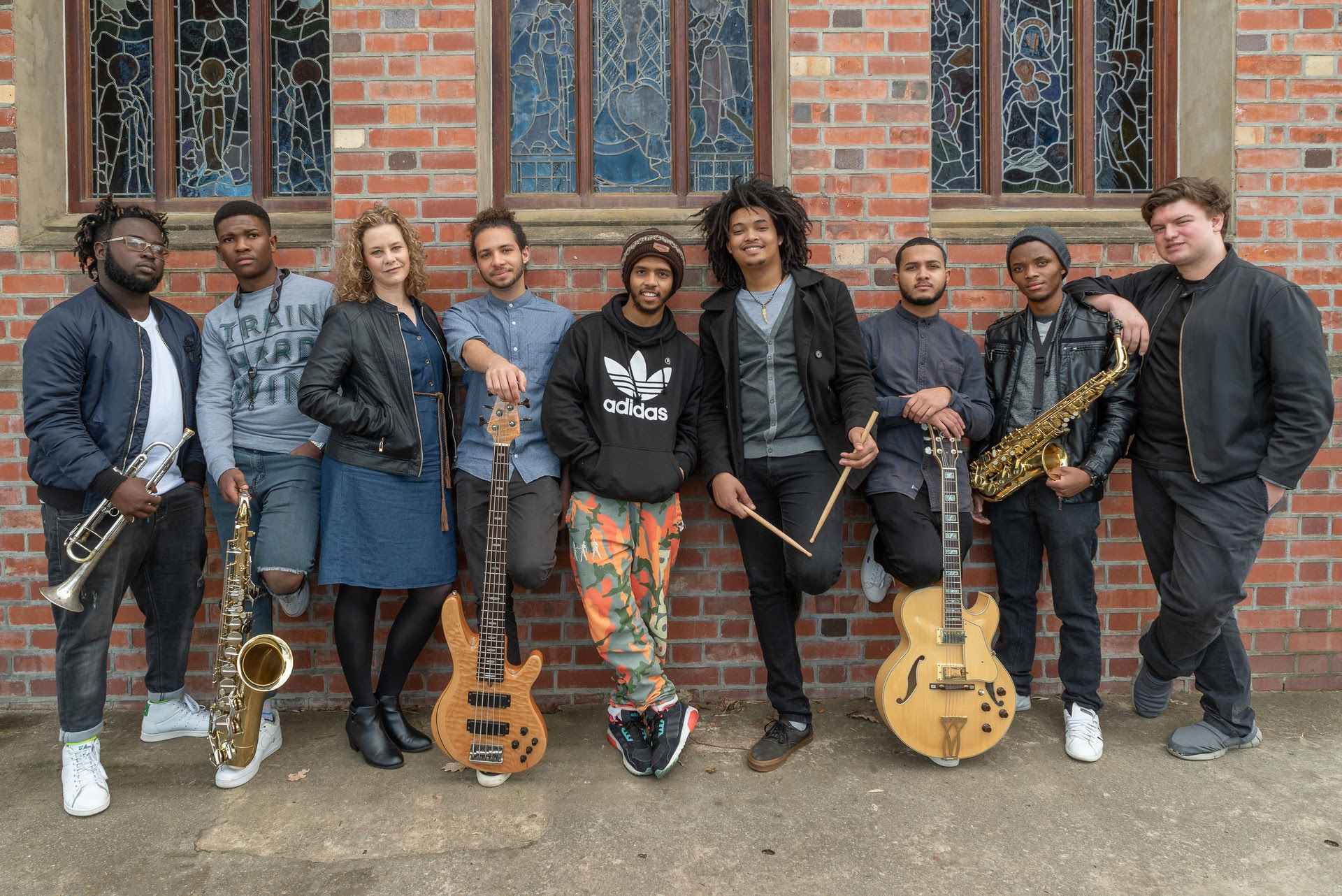 Fltr:  Thabo Sikhakhane, Moses Sebula, Amanda Tiffin, Sean Sanby, Brathew van Schalkwyk, Damian Kamineth, Ryan Truter, Ofentse Moshwetsi, Daniel van der Walt
For the first time in its history the Standard Bank National Youth Jazz Band (SBNYJB) is under the tutelage of a female conductor, Amanda Tiffin. This year has also seen the rise of 18-year-old saxophonist from TUT, Moses Sebula, who has beaten the odds to secure a place in the annually-constituted youth jazz band.
Sebula first attended the Standard Bank National Youth Jazz Festival (SBNYJF)in 2013 playing, says festival director, Alan Webster: "A tenor sax that was almost as big as he was… I was blown away by his sound and incredible ears, but he couldn't read a note and spoke little English, so had no chance of getting into a reading band." The next year Sebula was back in Grahamstown with slightly improved music reading skills. The following year he was selected for the "National Schools' Ensemble" which is created specifically for students that are talented, but have limited formal music education. "Last year (2017) I was gobsmacked to see him selected for the National Schools' Big Band (NSBB): a reading gig. On congratulating him, he beamed at me and said, 'I can read now!'
Moses Sebula
Word of Sebula's exceptional talent, a kid trained at the 
Moses Molelekwa Arts Center
 near his home in Tembisa, had come to the attention of music teacher 
Ceri Moelwyn-Hughes
 from St Mary's School in Waverley. She set about teaching him to read sheet music along with securing him his first tenor sax ahead of his return to SBNYJF in 2018.And it was a triumphant return as the shy 18-year-old let his sax do the talking, acing the auditions to secure his place in the 2018  
Standard Bank National Youth Jazz Band
 in his first audition for the senior youth band
. 
The SBNYJB has over the years included stars like SAMA winning bassist Benjamin Jephta, pianist Thandi Ntuli, drummer Ayanda Sikade and trombonist and vocalist Siya Makuzeni.
Amanda Tiffin, the band's conductor is a respected performer with three jazz records to her credit as band leader. She is also head of music at University of Cape Town where she has presided over the education of some of South Africa's most brilliant vocalists who took her reputably rigorous classes.
Tiffin will guide the Standard Bank National Youth Jazz Band as it takes to the big stage at the Standard Bank Joy of Jazz on the Diphala Stage on Friday 28 September 2018.  They will also give a free performance at the Night Market at the Nelson Mandela Square on Saturday 29 September 2018.
The band consists of UTC students Brathew van Schalkwyk on piano, Sean Sanby on bass, Damian Kamineth on drums, Ryan Truter on guitar, Daniel van der Walt on vocals, Ofentse Moshwetsi on alto sax; Moses Sebula on tenor sax and Siyakhula student Thabo Sikhakhane on trumpet and will present a repertoire that includes their original compositions and takes of well-known standards.
For more information go to www.standbank.com/joyofjazz
Facebook: @StandardBankArts
Twitter: @StandardBankArt
Instagram: @StandardBankArts